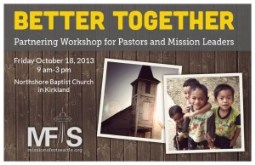 09 Sep

Partnering Together: Why & How
Why is working together better than working alone?
Because we have different gifts that are meant to work together to form a whole. The whole is more than just the sum of its parts. Even if all the parts of a body are present, nothing would happen if they weren't connected and working together.
Because experience has shown that the gospel can penetrate dark places more effectively when we work together for the glory of God. We need one another.
But how do we work better together? The why and how is the subject of a special 6 hour workshop that is part of this year's Missions Fest Seattle. From 9 -3 on Friday, October 18th, we will hold a Partnering Workshop for pastors, church mission committee reps, and agency mission professionals. MFS is partnering with Breakthrough Partners to offer this unique opportunity. See this page for more info and to register. We look forward to seeing you there.