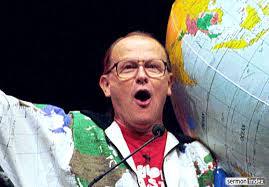 27 May

The Challenge Before Us

George Verwer spoke to 187 pastors and mission leaders who attended the Missions Fest Seattle pastors' luncheon on May 19th at Calvary Christian Assembly in Seattle. We laughed much as he shared his story with us and we were challenged as he shared his heart for those who have never heard the gospel of Jesus Christ.

I identified with him more as he shared how he responded to the gospel at a Billy Graham crusade at Madison Square Garden in New York in the 1950's. I was also at that crusade as a boy and felt the draw of the Holy Spirit. I came to the Lord later but that crusade was part of the process.

George has traveled the world but has been based in the great city of London, England for many years. He shared some of how that city has grown and changed and the challenges that are there. Indeed, our world is becoming more and more urban as people move to the cities. Reaching the cities of the world is the theme for Missions Fest Seattle this year on October 10-11 at Westgate Chapel in Edmonds, WA.

As part of MFS we will also be having a six hour workshop on Friday, October 10th, focusing on reaching the City of Seattle and surrounding urban area. Our city too has changed a great deal and there are many challenges and opportunities calling for our involvement. See you there!